New Identity = Deep Shots At Washington
October 12th, 2015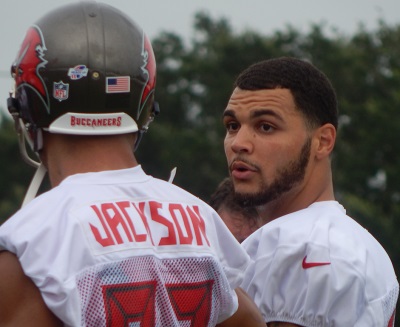 The Bucs pound the rock successfully and throw a lot of screen passes. It's beautiful, glorious football, Lovie Smith said today.
But in the NFL there's this thing called a defensive coordinator, a dude paid to stop offenses.
Former Bucs guard Ian Beckles (1990-1996) discussed this today on WDAE-AM 620. Beckles' point was that the Bucs now have an identity on offense — finally! — and there's no doubt they'll have to play off that in Washington to go 3-3.
The deep ball must come back, Beckles said, an aspect of the Bucs' game that hasn't been on display.
Yes, Mike Evans failed to hang on to another ball that hit him in the chest yesterday. Vincent Jackson was largely ignored or wasn't open. And the Bucs don't have a tight end available that can scare a defense.
Regardless, Beckles is correct. The Bucs likely need to open up the game to win after their bye week. It's a very safe bet that the Redskins will force Jameis Winston, America's Quarterback, beat them. The Skins (2-3) also are a heck of a lot better than the woeful Jags.