Lovie Played To His Weakness
October 25th, 2015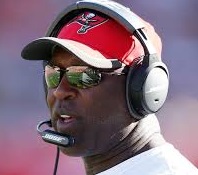 Lovie Smith asked the Buccaneers' struggling and sour pass defense to win the game today, instead of letting the high-priced, high-octane Bucs offense win it when he had the perfect chance.
Simple as that, Lovie. You played to your weakness.
Lovie didn't catch the MRSA from Greg Schiano, but he sure caught the former Bucs commander's obsession with banking on what isn't working.
Did Lovie not realize that he had no answer for mighty Kirk Cousins all day?
With the Bucs on a 4th-and-goal from the Redkins' 3 yard line with 2:24 to play and Tampa Bay leading 27-24, Lovie kicked a field goal.
It was a by-the-book call, but that's only the play if your defense is halfway decent. The Bucs' defense is bad, and everybody could see it.
The defense was imploding. The Skins had scored on their previous three drives!
It's downright maddening, especially when you invest all that money — and two years of draft picks — into the offense. If you won't let Jameis and Mike Evans try to win you a game (or score at the end of a half), then what's the point of it all?