Jameis Punches His Palm
October 12th, 2015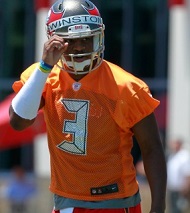 America's Quarterback, Jameis Winston, has been in overdrive since declaring for the NFL Draft after the NCAA football playoffs in January.
It's been a nonstop grind of football training (no baseball), traveling, media and working 16-hour days at One Buc Palace.
Asked about the upcoming bye week yesterday, Jameis talked about getting guys back healthy and letting some players (he appeared to be talking about linemen) rest their bodies. But Jameis made it quite clear he has no intention of chilling.
Jameis' fist and body language said it all.
"Some of us are going to be (clenches fist and punches opposite hand), you know, hitting it even harder [during the bye week], because every week we got to get better and better," Jameis said. "This is just not a week that we just fall off and relax. We gotta keep our foot on that gas, and try to start rolling."
Bucs fans are damn lucky to have a quarterback, America's Quarterback, who won't sleep until he's a winner.