Jameis = "Flash"
October 3rd, 2015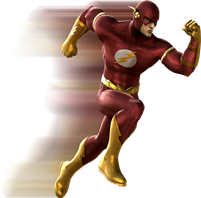 Around these parts, Bucs signal-caller Jameis Winston is known as "America's Quarterback."
In his hometown of Bessemer, Ala. and college, he is known as "Jaboo."
But on his Little League baseball team, Jameis was known as "Flash," and if he could transform into a super hero, that would be his hero of choice.
It is high brow information like this that we learned about Jameis in the first edition of this season's "Dini's Den," a web-only show hosted by Bucs defensive tackle Gerald McCoy.
In the show, seen on Buccaneers.com, there are several things to learn about Jameis:
* He considers his go-to teammates for advice and help GMC, Vincent Jackson and Logan Mankins.

* His favorite athlete growing up was Ken Griffey, Jr.

* He was "forced" to give up baseball by the Bucs.
GMC described Jameis to viewers as a natural born leader.
"It is in his blood," GMC said. "He doesn't know any other way."