"Hump Game" Double Talk
October 3rd, 2015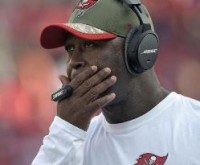 Joe's unsure what tomorrow's game means for the underdog Bucs against the Panthers, winners of seven consecutive regular season games, plus a playoff game in between their 2014 finish and their undefeated 2015 start.
For Lovie Smith, a victory, or at least a strong showing, might mean a chance to stop contradicting himself and speaking in clichés.
During his pregame conversation with Buccaneers.com, Lovie says his Bucs have been battling like true competitors each week, but then adds the team didn't show up last time in Tampa.
"I feel like we've, you know, we've competed hard every game," Lovie said. "Now's about time for us to get over the hump. So this is one of those hump games, We feel like we're ready to get over the hump."

Lovie went on to say his team, not just the Bucs organization, should honor Alstott by playing physical football Sunday.

"I'm talking about Mike Alstott-type, smashmouth football. That's what we need to do. We didn't show up the last time, the last home game. We get another opportunity to perform in front of the front crowd, and we're going to show up this week."
Joe doesn't view Sunday as a "hump" game. Joe sees next Sunday at home against Jacksonville as that "hump" game. The Bucs under Lovie have to prove they can stand up at home and beat a second-rate opponent. There's no excuse not to. Carolina is a different story.