Avoiding The Fetal Position
October 2nd, 2015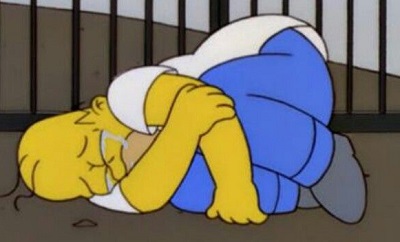 With the Bucs back in Tampa for a two-game home stand against the Panthers (Sunday) and Jaguars, Joe demands one simple goal be accomplished: win a home game.
Frankly, it's the only thing that will keep Joe from lying prone in the fetal position, weeping and nursing a bottle of Jack Daniels.
In all seriousness, if the Bucs can't win one of the next two games (really not too much to ask), then Joe expects to be the most depressed Tampa Bay area resident.
Losses in those games would leave the Bucs 1-4, out of the playoffs, and limping hopelessly into the bye week with a 12-game home losing streak and a head coach trying to convince everyone that good things are happening.
It just can't happen. It cannot happen.
So Joe is hoping that in one of the next two games, Jameis Winston, America's Quarterback, can carry the Bucs on his back, or the defense can stand tall like it did in New Orleans, or Doug Martin can revive his rookie form, or Lavonte David can be the game-changer the Bucs are paying him to be, or better yet, smiling fans can walk out of the Stadium on Dale Mabry Highway nodding their heads and saying, 'Lovie sure outcoached those bastards.'
Bucs fans have suffered far, far too long.
Just find a way to go 2-3. Joe's liver really needs the break.