Yesterday, Today And Tomorrow
September 28th, 2015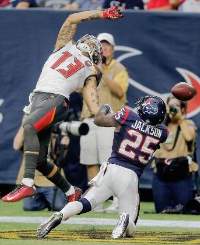 Just when it looked like the Bucs would turn the corner, beat a bad team on the road (again) and have the first winning record since the first year of the Greg Schiano administration, the Bucs vomited all over themselves.
Inability to get a consistent pass rush (the excuses are just about over), high school quality kicking, which cost the Bucs 10 points alone (the difference in the loss), and so many dropped passes Joe swears the ball was poisoned with the Ebola virus, added up to an ugly loss to a bad team.
The Bucs had a win held on a silver platter in front of their faces, and then they had a bad case of acid reflux.
It was almost like the team was/is scared to win. Remember, last week the Bucs did their absolute best to lose, only the Saints outdid the Bucs in mistakes, and the Bucs escaped the Superdome with a too-close win.
The only thing impressing Joe is the progression of America's Quarterback, Bucs signal-caller Jameis Winston, and the rookies on the offensive line. And, yes, Kwon Alexander.
And yet the Bucs continue to lose.
Did anyone notice that the feared front of the Texans, J.J. Watt, Jadeveon Clowney and Vince Wilfork, did not register a sack? Who would have thunk that?
Joe doesn't know what to write. It is the same old thing we've been seeing for over a year. Only difference is promising rookies that Bucs general manager Jason Licht found. Four to be exact, this year alone. Yet the losing (and losing to bad teams) continues.
Bucs co-chairman Bryan Glazer stated for the record he is looking for "a growing year." He understands this is not a playoff team. But what is the threshold for growth? Is it just for the rookies to develop? The second-year players? Is there a win-total benchmark? What happens if with a last-place schedule, the Bucs are, say, 4-12, and continue to cower from wins like they did Sunday?
Joe assumes only a Glazer knows.
Joe is getting flack on Twitter for being too hard on Lovie Smith and the inference is Joe is trying to run Lovie. That is patently inaccurate. If there is a coaching change, it will be because of the bed Lovie himself made. Joe writes about what is happening; not transactions Joe pulled the trigger on.
Lovie needs to start winning games, especially against loser teams like the Texans.
Lovie is 3-16 with the Bucs and coached a team that was dead last in the NFL; rarely do coaches survive such a season. Lovie likes to talk about the many one-score games his team lost last year. This year, the Bucs got blown out by Tennessee and lost a two-score game to Houston. So where is the improvement?
Again, the previous paragraph isn't something Joe dreamed in a drunken haze. Go ahead and look up the facts for yourself, if you are suspicious.
Offensive Line Quietly Getting Better
Joe spoke with guard Logan Mankins after the game. He was peeved at the loss and blamed himself and his fellow offensive linemen for not getting the job done, specifically in the run game.
But you know what? Doug Martin may be a bit overrated and damnit, the Texans have a stout defense. Oh, and Joe repeats, no official sacks by a star-laden defensive front. If Team Glazer is looking for "growth," might they look at the offensive line? Joe thinks that is a feather in their cap. It is only going to get better.
Jameis Continues To Grow
Look, since when is a rookie quarterback supposed to complete every pass? That's just nonsense. Jameis had a nice game. He also was victimized by so, so, so many drops it was shameful.
After the game, long-time Houston football writer and one of the most respected scribes in the business, John McClain, could be overheard telling the "Custodian of Canton," eye-RAH! Kaufman of The Tampa Tribune, that he was very impressed with Jameis.
There again is growth. Joe's pretty confident the Bucs hit a bullseye on the quarterback of the future.
Peeved Vets
Joe will write about this later, but for the first time in a long time, veteran players, especially veterans who made their bones with successful teams, are beginning to call out Bucs teammates, maybe not by name, but as a whole.
Mankins used a foul word that cannot be repeated on airwaves, which rhymes with "witty" to describe the offensive play of the Bucs. Clinton McDonald went on a thoughtful, yet heartfelt rant to Joe about how the defense isn't getting the job done. Again, more on that later.
Finally, it seems the veterans who have winning resumes are fed up. Hopefully, the message will get through. We shall see.
So what happens now? Will the Bucs find a new kicker? Lovie was adamant that won't happen. Easy to say that after a frustrating loss. What happens when the smoke clears?
Perhaps Mike Evans, the main culprit in dropped passes yesterday, was just rusty from his hamstring? It's plausible. But you know what, if Evans and Vincent Jackson want to be considered elite, well, elite players don't gag on so many catchable balls.
Up next is the Stinking Panthers, undefeated Joe might add. At home at the Den of Depression. The Escape from New Orleans doesn't look so much like a statement game, but a will of survival. If the Bucs are looking for a franchise-turning-the-corner win, doing that at home against Cam Newton and company would be a nice start.
Around the NFL:
Seahawks: Actually clobbered the Bears worse than Joe can remember any team getting clobbered. One gruesome stat lines was that each Bears possession ended in a punt. Every one! No field goal attempts. No going for it on fourth down. Each possession ended with a punt. Joe has no words to describe how frightful that is.
Giants: A win is a win, and Eli just wins, but that game against the Redskins was one of the more painful ones Joe has watched. Joe finally had to shut it off in the second half. Just couldn't tolerate it any longer.
Bengals: All Andy Dalton does is win. Throws for 383 yards and three touchdown and beats the Crows on the road. Stud.
Stinking Panthers: In a one-score game with the hapless, Brees-less Saints, it was all Cam Newton, who threw for over 300 yards with a pair of touchdowns.
Raiders: So whatdoyouknow? Josh McClown loses a game. Shocking, right? To the rotten Raiders no less. Derek Carr outdueled McClown.
Dixie Chicks: Atlanta is on an absolute roll and is undefeated after three weeks with wins over Philly and Dallas. Joe is pretty sure no one saw that coming before the season. Julio Jones went crazy with two touchdowns and 164 yards receiving.
Vikings: Adrian Peterson carried the Vikes in a nice win over the Chargers. Peterson had 126 yards rushing and two touchdowns.
Patriots: Tom Brady, yawn. Bill Belicheat, yawn.
Eagles: The lynch mob in Philly has put its pitchforks down. The Eagles won. Ryan Matthews ran for 108 yards and a score to lead Chip Kelly's heroes.
Steelers: Well, at least Mark Barron is good for something: He can blow out quarterbacks' knees and kill teams' Super Bowl hopes. The stiff was responsible for blowing out Carson Palmer's knee last year, and yesterday, he got Ben Roethlisberger. Luckily, Big Ben is expected back in no more than six weeks.
Colts: Andrew Luck bounced back with a pair of touchdowns and built a big enough lead to withstand a Tennessee rally.
Cardinals: Arizona is on fire! Carson Palmer throws for over 300 yards and the defense picks off Colin Kaepernick four times.
Bills: Rex Ryan's charges destroyed Miami yesterday, and the South Florida locals are screaming for Joe Philbin's head.
Broncos: Peyton Manning yada, yada, yada… Man that was a boring game last night.
Non-NFL Thoughts
* Joe is in an absolute state of depression. The Redbirds' best pitcher is shut down for the season with a "tight shoulder." General manager John Mozeliak said of shutting down Carlos Martinez, in so many words, that there are more important things like a World Series, like his career. Pardon Joe if he wants to throw a chair. No, you play for a World Series. If Martinez is not experiencing pain, and he can and wants to throw, he should throw. A run at a World Series is anything but a given. Sounds just like the nonsense about the Nats shutting down Stephen Strasburg. The Nats gagged in the playoffs and haven't sniffed a World Series since. Joe is so depressed, he doesn't even want to watch another baseball game; can't even talk baseball with others. Just freaking sick.
* Man, if you didn't see the end of the TCU-Texas Tech game, you missed out. One of the craziest endings Joe has ever seen. From a fluke catch to save TCU's national championship hopes, to Texas Tech nearly pulling off an upset with a too-many-laterals-to-count pass and run that nearly made reached the end zone.
* The Gators are undefeated. Re-read that sentence.
* Butch Jones at Tennessee is the new choke artist in college football. Joe has to wonder if former Vols offensive coordinator Mike Bajakian bolting to be America's Quarterback coach with the Bucs wasn't a harbinger of things to come?
* Joe has become smitten with Houston, more so than Fort Worth or Dallas. Been here once before and thought it was OK. This weekend, Joe took in an Astros game at Minute Maid Park. It is very underrated with a retractable roof. The Rays should be so fortunate to have a new park like this (Joe is convinced he will not live to see a new Rays park… in the Tampa Bay area). Saturday, Joe did what he likes to do on away games — stroll. Downtown Houston is pretty big and there is a lot of skyscraper construction, which tells Joe there is money flowing in this town. Downtown is really clean and there are all sorts of niche restaurants (beef brisket taco was the best taco Joe ever wolfed down), really walkable, a couple of parks, fair amount of live music and – can you imagine? – light rail! This is a happening town. Unlike the stereotype of Texas, Joe saw a total of three cowboys hats the entire weekend. And the brisket! Joe has been to Texas three times and had maybe five brisket meals, and each was unreal. These folks in Texas sure as hell know what to do with brisket.
* Houston is more of a Texas A&M town but there are still plenty of Longhorns around and they are unhinged at what is going on in Austin. Folks are openly pining for Nick Saban. Yes, really. Even the local TV sports talking heads chatter about Saban as if Texas is actually in negotiations to bring him to the Lone Star State. Poor Bevo.
* Joe has to agree with Phil Mushnick of the New York Post: The assault of DraftKings ads (featuring that douchebag Pats fan swallowing his hands) while trying to watch sports has become one of the Ten Plagues, replacing locusts.
* Joe started following Donald Trump on Twitter. Dude's timeline is a riot.
* Joe saw Trump's interview on 60 Minutes last night. So Trump thinks he can outwit the Chinese government because he leases space on his properties to three Chinese banks? LOL!
* Seems like Michigan nailed the Jim Harbaugh hire. That close loss to Utah on the road to open the season doesn't look so bad now, eh?