The Calls For Lovie's Head
September 14th, 2015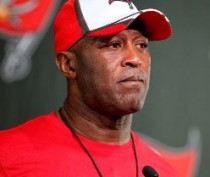 Legions of Bucs fans are calling for their head coach's head this morning.
The anger, disbelief and loss of hope is understandable.
NFL teams should not get slaughtered, especially not at home. Maybe that's acceptable once every few years, but Lovie Smith's team has made it commonplace.
In case you missed it somehow, the Bucs were not competitive while losing 42-14 yesterday to a Tennessee Titans team that will be lucky to have a winning season.
Regarding those calls for Lovie's head, well, they're completely unreasonable today. It's Week 1. Simple as that. It's just stupid talk.
But it is reasonable to start debating the appropriate line in the sand for Lovie. He earned it after yesterday's debacle — and the horror of 2014. Lovie can't continue to be employed without significant improvement in 2015.
Back in July, Joe wrote about the great divide at JoeBucsFan.com world headquarters surrounding Lovie's job security. It's safe to say that debate isn't much of a debate any longer.
Lovie's job is not secure, but he surely can secure it by playing competitive football and winning a handful of games in 2015.
That's not much to ask. Will four games do it?
Only Team Glazer knows. And only Team Glazer knows at what point they would start a preliminary coaching search. Joe suspects a 2-8 record through the first 10 games would spark an urgent executive discussion.