"The Buzzards Are Starting To Circle"
September 18th, 2015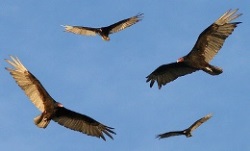 Doom and gloom seems to be around the corner for Bucs coach Lovie Smith.
After his defense threw up all over themselves in a shameful performance at the Den of Depression to open the season, Bucs fans have been irate like Joe hasn't seen since "MRSA" became part of the local lexicon.
Even the Custodian of Canton, eye=RAH! Kaufman of The Tampa Tribune, can feel the heat. Kaufman explained to the one and only Chris "Mad Dog" Russo, during Kaufman's weekly appearance on "Mad Dog Radio," part of the family of sports channels heard exclusively on SiriusXM Radio.
Kaufman detailed the local freakout and mentioned birds of prey are now targeting Lovie's coaching carcass.
"I've got to tell you, the buzzards are starting to circle around Lovie Smith," Kaufman said. "They turn quick, Chris. They turn quick. After a 2-14 [season], you can't roll that out. Chris, I will say this: He has coached 17 games for this football team. Three of them have been total humiliations. Three out of 17. That can't continue."
Kaufman is correct. Blowouts are what sealed the deal to boot Raheem Morris after the 2011 season, and he was a young coach with scant defensive talent on the roster, save for Michael Bennett, Aqib Talib, injured second-year man Gerald McCoy, and an aging Ronde Barber. In fact, of the final five games of 2011, Morris, who like Lovie also served as defensive coordinator (remember, Lovie took over defensive play-calling duties this summer), saw his defense throttled for at least 38 points in four of the losses. In the remaining loss, Morris' defense allowed 31.
Lovie, on the other hand, is a veteran coach who once brought a team to a Super Bowl. He has two of the best defenders in the NFL at his disposal, Lavonte David and GMC. Many of the other defenders Lovie personally hand-picked. Yet his defense was seal-clubbed last Sunday by a 2-14 team, even with four months to prepare!
If Morris, a young coach with limited experience, could get run, in part, because his defense couldn't stop a cool breeze, Joe sure thinks it is logical to believe Lovie could meet the same fate if he doesn't fix his defense.
Joe knows Lovie loves to talk and preach takeaways. Right now, that should be the furthest thing from his mind. Instead, he should start worrying about his defense getting off the field without an opponent finishing a drive in the end zone for a change.