Rich Gannon Predicts Division Cellar For Bucs
September 9th, 2015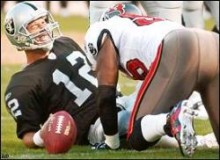 Predictions are flowing in fast for the 2015 season, and the hot calls in the NFC South are emerging.
Joe is flabbergasted that the Falcons and new head coach Dan Quinn are such a trendy pick across the nation.
Really? Quinn is going to fix a rough O-line and a garbage defense in less than a year? If so, what would that say about Lovie Smith if Quinn pulled that off?
Joe is not buying the Falcons hype, and the latest big name to spew it is former Super Bowl quarterback and NFL MVP Rich Gannon.
Speaking on SiriusXM NFL radio, Gannon predicts the Falcons finish at 9-7, a game behind the division-winning Saints at 10-6. Next is Carolina at 6-10, followed by the Bucs at 5-11.
Wherever fans fall on the Bucs' prospects, Joe has yet to meet a fan that doesn't peg Sunday's opening day against the Titans as a victory, in other words, a must-win.