Mike Evans Is Not Practicing
September 9th, 2015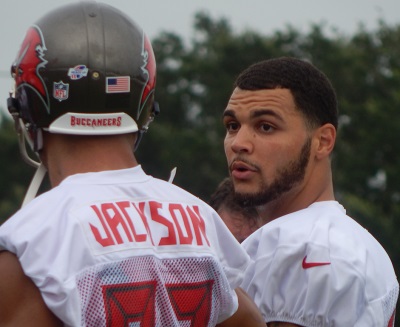 Per the eyeballs of the Custodian Of Canton, eye-RAH! Kaufman of The Tampa Tribune, superstar wide receiver Mike Evans was not dressed for practice this afternoon during the 30-minute window open to media at One Buc Palace.
(Joe was busy typing indoors and celebrating the health of rookie left tackle Donovan Smith.)
Yes, Bucs fans should be alarmed. Likely, Evans is just being ordered to rest and not take any chances with his hamstring, the one opposite he had minor trouble with last year. Let the thing heal that much more. But the reality is it's Wednesday afternoon before opening day, and Evans has been shelved for a couple of weeks.
If Evans is out Sunday, then that would bring a steady diet of double teams to Vincent Jackson. Joe suspects Titans defensive coordinator Dick LeBeau would be content to let Louis Murphy beat him.