New Technique Focus For Lavonte David
September 9th, 2015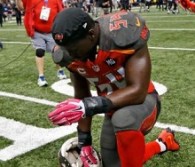 Last year at this time, Lavonte David was working on playing lower and starting his pre-snap routine in a deeper crouch.
This year, David has a new focus.
Joe talked Xs and Os with David this afternoon at One Buc Palace, and the $10-million-a-year linebacker is working to tweak his game.
"Play with my hands more and get out of my breaks quicker," David said of his 2015 focus. "You know, just a little more burst when the ball is thrown. Get out of my stance so I could cover ground faster. That's what the coaches have been preaching to me hard."
Interestingly, David said he hasn't watched film of Derrick Brooks in a long time. He also said the defense really hasn't done much of what he called "vintage film" study this year.
David said he primarily critiques his own tape at this point in his career.