Lovie Extinguishes Hot Seat Chatter
September 20th, 2015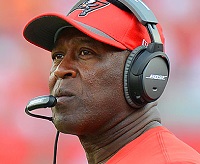 Fact: After Tampa Bay's historically dreadful performance on opening day, Lovie Smith earned the calls for his head by some fans and media.
Fact: Only one thing was going stop it in its tracks.
Of course, that was a win today in New Orleans. There were no morale victories on the menu this afternoon. The entire Bucs organization and fan base was desperate for a soul-soothing victory. It was critical to the state of the union.
And Lovie got it.
Good for you, Coach. You earned every inch of it, despite a Rush Limbaugh-Father Dungy offensive approach late in the game.
Joe was not among those hanging Lovie after last week. It was silly talk after one game, but it was understandable. The franchise changed after getting chain-whipped by Tennessee, and it changed again today. Depression turned to hope. Death turned to life. A clearer picture of reality emerged.
This Buccaneers team is no playoff squad, but it should win six games, as Joe wrote before the season.
Jameis Winston, America's Quarterback, is good enough to put the team on his back a couple of times. The defense has enough talent to win a couple of games on its own. And pure competitive football should mean at least a couple of wins.
Joe is elated that Lovie extinguished the hot seat chatter simmering around him. There's a hell of a lot of healing across Tampa Bay tonight.
It's on to Houston! Simple as that.