Joe Talks… Guess What?
September 25th, 2015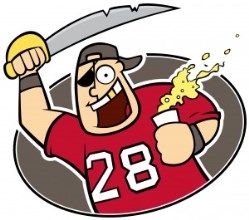 Yes, Joe had a busy radio week, Of course, Joe did his weekly in-studio, steel cage jousting match with his good friend, "The Big Dog," Steve Duemig of WDAE-AM 620. But there was more.
Part of Joe's weekly duties is to drop knowledge and one-liners on the "Jeff Cameron Show," heard on ESPN Tallahassee 97.9 FM. Cameron, the pride of Lakewood High School in St. Petersburg, wanted the lowdown from Joe of the Bucs win at New Orleans, and how that can carry over to Sunday's game at Houston.
Joe even worked in a Rosie O'Donnell reference, so you know this is must-listen radio.
To hear Joe's spot, click below. Audio courtesy of ESPN Tallahassee.