"Definitely Not Anything That You Practice"
September 25th, 2015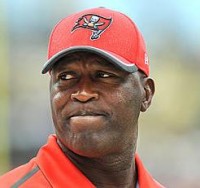 When you preach takeaways and scoring on defense, you sometimes find that your defense will improvise to get the job done — even if coaches might frown upon the attempt.
That happened in Sunday's game against the Saints, when safety Chris Conte picked off Drew Brees. Wide receiver Brandin Cooks clung to his leg, and Conte flipped the ball to Alterraun Verner, who scampered 25 or so yards up field.
Conte talked about the play on the Buccaneers Radio Network. It wasn't rehearsed, and it definitely wasn't practiced.
"Alterraun comes running over, 'Gimme the ball. Gimme the ball," Conte said.
Conte said he immediately assessed "limited risk" so he made the short handoff/flip.
"We always say we want to score on defense," Conte said. "Definitely not anything that you practice or that coaches are recommending that you do."
Yes, gambling with the football can definitely bite a team in the ass. Conte's play (video here) was pretty safe. Joe likes the attack-dog spirit the Bucs defense displayed Sunday, Conte especially.
He explained his pouncing on the early fumble from Brees — while most of his teammates thought it was an incomplete pass — was right out of the Lovie Smith playbook: Get the ball and worry about the referees call later.