Jameis Impressed Drew Brees Over Dinner
September 16th, 2015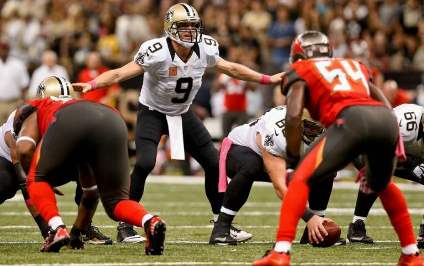 America's Quarterback, Jameis Winston, had a busy offseason.
He got some tutoring from Phillip Rivers and talked ball over dinner with Drew Brees.
Brees revealed today that he broke bread with Jameis in San Diego over the winter. Brees is known for training there annually with Gerald McCoy and some other pros with renowned trainer Todd Durkin.
Jameis left an impression on Brees.
"He was getting ready for the draft there. And that's where we spent a portion of the offseason, and so I had a chance to meet him there for the first time and talk with him for a little bit. Impressed with his knowledge of the game. I think he's an intelligent guy who's only going to get better the more experience he gains," Brees said. "It's tough to come in as a rookie and play the quarterback position. There's so much on your shoulders. And it really is, there is a big curve, you know, learning curve. … He's certainly a very talented guy and I'm sure he's going to be just fine."
The praise of Jameis was a nice gesture by Brees. Certainly, nobody had asked him if he dined with Jameis.
Joe's hoping that learning curve Brees referenced doesn't extend to a beating in the SuperDome on Sunday.