Get A Hold Of Yourselves!
September 15th, 2015
Joe just cannot believe after one half of bad football in his very first NFL game, in which he had to play catch-up (partly his own fault), Bucs fans are ready to shovel dirt in the face of America's Quarterback, Bucs signal-caller Jameis Winston.
As Chucky famously said in one of the original NFL Network TV ads while he was still Bucs coach, "Knock it off!"
Given how Lovie Smith did no favors for Jameis Sunday, and that he didn't have much time to throw, and the Titans knew he had to throw to get back into the game, for a rookie making his debut, he wasn't that bad (aside from two garish picks he threw).
Don't believe Joe? Well, WDAE-AM 620's Pat Donovan put a graphic on Twitter last night that might enlighten you. There are quite a few NFL stud quarterbacks who wished they had as good of a first game as Jameis.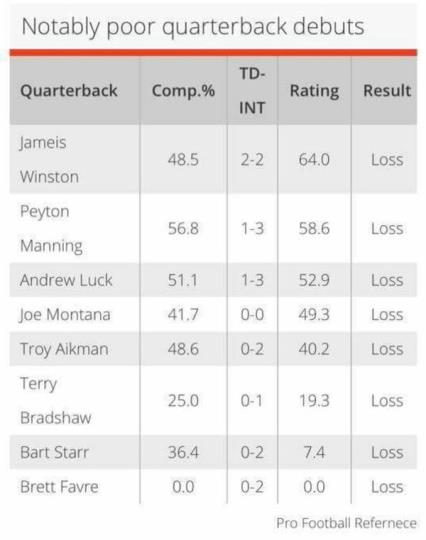 And, no, Joe pays no attention to quarterback ratings which, with the possible exception of baseball's WAR data, may be the most BS stat every concocted by the pocket protector crowd.
If you believe in quarterback ratings, then you believe David Garrard was a better quarterback than Jim Kelly or Roger Staubach. And if you believe that, you need to be locked in a closet wearing a straitjacket and subjected to a non-stop loop of Boy George music.
So long as Jameis is given a fighting chance, he will be fine. However, Joe will share a story later in which a respected NFL scribe believes Jameis is in in a nearly impossible situation for a rookie quarterback to thrive.