Four Huge Streaks On The Line
September 19th, 2015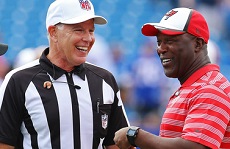 Something has to give on Sunday. The Saints and Bucs are clashing in the SuperDome and both teams are riding major trends.
Consider the following:
1) The Saints have lost five consecutive home games. Almost unthinkable, except the Bucs have lost 10 straight in Tampa.
2) New Orleans has won six consecutive home openers with Sean Payton coaching.
3) The Bucs have lost seven in a row to the Saints.
4) Tampa Bay is has lost its last seven games overall.
Joe expects the Bucs to compete like a real football team for a change, with a real quarterback playing solid football. But Joe's not expecting a miracle in New Orleans. The Bucs have to prove themselves before Joe starts prognosticating a victory.