Daniel Jeremiah Picks Lovie For Hot Seat
September 19th, 2015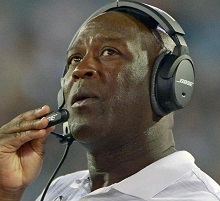 It has come to this.
As a result of the Buccaneers looking like a colossal train wreck on Sunday, one the most seasoned and reasoned NFL analysts, a former scout and college quarterback, Daniel Jeremiah of NFL Network, is calling out Lovie Smith.
Jeremiah joined CBS Sports Radio on Thursday and was asked what head coaches would he consider to be in a potential hot-seat situation, even after just one week.
Jeremiah immediately went to Lovie.
"It's only Year 2 for Lovie Smith down in Tampa, but I mean they have to look better than they looked the other day. I mean that was just, that was gross," Jeremiah said. "So there is some pressure there on him, I think, to come out and play well."
This offseason, serving as NFL.com and NFL Network draft guru behind Mike Mayock, Jeremiah was a huge Jameis Winston backer. And based on Joe's chats with Jeremiah, Joe's confident Jeremiah hasn't abandoned shop on Jameis.
Simply stated, the invisibility of the Bucs' defense Sunday got a whole lot of attention.