Buccaneers: 2015 Team Of Destiny
September 6th, 2015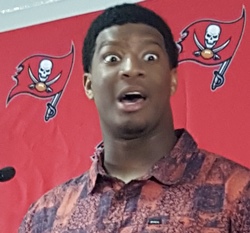 The funny analyst on World Series of Poker broadcasts makes his real money as a sports columnist.
Joe's talking about Norman Chad, who is very hard to top when it comes to quick wit and regular-guy humor.
Chad has named his annual NFL Team of Destiny. And this year, the Buccaneers have earned the high honor.
Chad is all-in for America's Quarterback, Jameis Winston.
He was briefly detained by campus police for firing a BB gun at squirrels. Please. George Washington once cut down a cherry tree; you tell me whose juvenile actions hurt the ecosystem and the environment more, GW's or Winston's?

He made some unfortunate, somewhat vulgar comments about women while giving an impromptu speech in FSU's student union. Uh, Donald Trump does this on an almost daily basis, and a year or so from now he might be converting 1600 Pennsylvania Ave. into luxury condos.

(Column intermission: Jets quarterback Geno Smith was punched by a teammate last month, sidelining him six to 10 weeks. How come no one on the Bears ever thought of this?)
The full piece is linked above. It's a nice break from yawn-inducing practice squad Tweets.