NFL Coach Of The Year: Dan Quinn?
September 7th, 2015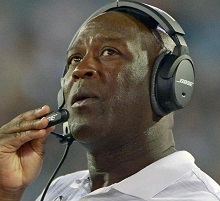 Joe sees that mighty Sports Illustrated and TheMMQB.com chief Peter King is calling this morning for a massive Falcons revival and first-year coach Dan Quinn to be named NFL Coach of the Year.
Joe can't help but think of how that could reflect on Lovie Smith.
Quinn is a first-year head coach, who inherited a team that was poor in the trenches. Yes, he was blessed with a real quarterback and arguably the best wide receiver tandem in football, but is that enough to best the Buccaneers?
If the Falcons win the division, as urinal picture-taking, video game-playing, Taylor Swift-listening, pickpocket-thwarting, Bucs-uniform-frowning, Allie-LaForce-smitten, Big-Ten-Network-hating, pedestrian-bumping, olive oil-lapping, popcorn-munching, coffee-slurping, fried-chicken-eating, oatmeal-loving, circle-jerking, beer-chugging, cricket-watching, scone-loathing, college football-naïve, baseball-box-score-reading, NPR-honk, filthy-hotel-staying, fight-instigating, barista-training King claimed in his column this morning, then what does that mean for Lovie?
Joe comes back to what Team Glazer said earlier this year, that 2015 is a season about "growing." The Bucs can't get outplayed by the Falcons, and finish in last place again, and be considered a team that grew.
Defending NFC South champ Carolina has a healthy quarterback for a change, along with a stout defense, plus it's hard to imagine the Saints taking another step backwards this season.
Lovie has got to find a way for the Bucs to grow within the division. No excuses. A 6-10 finish and third place isn't too much to ask.