Video: Jameis & VJax Torch 2nd-Team Defense
August 10th, 2015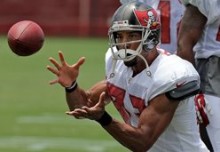 What's more soothing at lunchtime than America's Quarterback, Jameis Winston, connecting for a touchdown with Vincent Jackson?
Joe can think of a few things, but this is still loads of fun.
Joe's HD technology was all cued up, and here you see V-Jax and Jameis torch the Bucs' second-team defense. Perfect execution.
What Joe likes is the reaction of Dirk Koetter in the left corner. You don't see a lot of that from Koetter.
Enjoy.