Titans Watch: 34 More Days
August 10th, 2015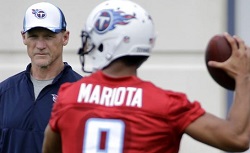 Joe's already called opening day against the Tennessee Titans on Sept. 13 in Tampa a "must-win."
It's not a must-win for the standings. Duh. But it is necessary for the psyche of a fanbase that's hasn't seen a home victory since 2013, and compares Jameis Winston to Marcus Mariota.
Mariota, who was named the Titans starter, still hasn't thrown an interception in training camp. Yes, Jameis Winston has thrown plenty, including an ugly, needless throw to Alterraun Verner in red zone work yesterday.
But sane people realize practice picks mean little.
Joe finds it odd, however, that the Tennessee defense is proud of itself. Check out this nugget from ESPN.com
"We are doing good; you watch the film and we are in a perfect position a lot of times,'' linebacker Zach Brown told Jim Wyatt of the team's web site. "Some of the throws we are like, "Man, did he really just place it there? I take my hat off to him — he is a smart kid. He hasn't thrown one to us. We are still trying to get him. We have to get him."
One thing Joe's really interested in seeing his how often Mariota takes off when he feels pressure in preseason games, and how successful he is when he runs. That combination should shape a lot of how the Bucs plan on defense for opening day.
The Titans open the preseason Friday at 7:30 p.m. in Atlanta.