Jackson Drops The "L" Word On Jameis Winston
August 10th, 2015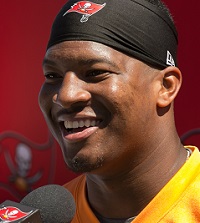 Joe realizes there is a fringe faction of Bucs fans that wants to see Jameis Winston, America's Quarterback, shut up and know his place as a rookie.
And half of those lunatics think Jameis should be in a fair competition with Mike Glennon for a starting gig.
Joe will direct those fans to the words of Vincent Jackson yesterday.
Keep in mind Jackson rarely says anything interesting, doesn't talk much to media, and little seems to arouse his football passion beyond speaking in clichés.
But Jackson had a different tone when asked whether Jameis qualifies as a football junkie.
"He is, he really is. In the meeting rooms, he wants to go through every single, he wants to go through every cadence," Jackson said. "He might even do more than the coaches are asking him to do, but that's good. He's hungry and he wants to be great, and that's all you can ask from a leader."
Wait a minute! Did V-Jax just call Jameis a "leader?"
Joe's already written about how the Bucs roster, which votes for two offensive team captains annually, should shun the old guard and elect Jameis and Mike Evans this year.
In the end, captaincy means little, but it might be a bonus to see the Bucs do the right thing and fully anoint Jameis, a lifelong winner.