Training Camp Video: Bad Snap, Take 2
August 2nd, 2015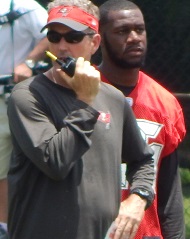 Of course, there surely are Zapruder film lunatics who will dissect the exclusive JoeBucsFan.com practice video below from last night's downpour at the University of South Florida.
Joe's already dissected much of the practice and offered uplifting and depressing video. (Scroll down the homepage.)
This is the last of Joe's video: It's the second botched exchange between Jameis Winston, America's Quarterback, and Evan (Dietrich) Smith.
Joe sincerely hopes Jameis and the offense and coaches learned a valuable lesson last night. Day 2 of practice is today at 4:30 p.m. at One Buc Palace, weather permitting.