Jameis And Virtual Reality
August 2nd, 2015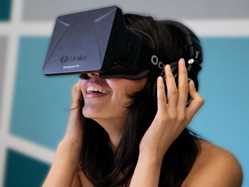 Recently, a lot was made of the fact the Bucs went out and got a virtual reality system to aid in the development of "America's Quarterback," Bucs signal-caller Jameis Winston.
Maybe because it was the dead period of the NFL, maybe because people are fascinated with shiny new technology, but the coverage of the event seemed akin to the reinvention of the wheel.
Yesterday, when Jameis spoke to the Tampa Bay pen and mic club at One Buc Palace, Joe asked Jameis about the celebrated gizmo. He seemed to downplay the significance.
"Well, I'm a very visual learner, and I use it some," Jameis said. "But I haven't used it that much. It's a great thing, especially for right now."
Joe guesses what Jameis was implying was that it was a nice tool when you aren't playing underwear football or scrimmaging against Gerald McCoy and Lavonte David and Johnthan Banks, and the rest of the first team defense.
In other words, as good as technology may be, it still can't replace good ol' fashioned scrimmages and game action.