Ticket Sales Improved "Dramatically"
August 3rd, 2015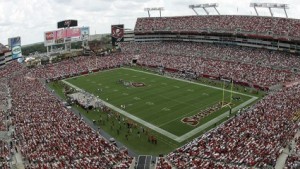 Joe often gets this question. A lot. And Joe doesn't have an answer. How are ticket sales? Good guess.
First, Ticketmaster is in business solely to sell tickets. It is neither their job nor their obligation — nor in their interest — to release accurate ticket sales information. The data on their website is often grossly inaccurate, yet fans mistakenly consider it fact.
Don't be misled.
The Bucs, per team policy, rarely release ticket sales details. However, Bucs co-chairman Bryan Glazer offered a glimpse yesterday. Without specifics, Glazer provided a little more than what Joe learned last month: the Bucs have halted single-game ticket sales for a few games.
"Obviously, with the excitement we have here, ticket sales have improved dramatically," Glazer said. "We still have a ways to go but we are doing very, very well and with winning, we hope we can go the rest of the way."
And you want to know what's causing that excitement? It isn't finishing 2-14. It isn't the triumphant return of Da'Quan Bowers. It isn't the prospect of Kwon Alexander. No sir.
The excitement is the same reason fans packed One Buc Palace yesterday in the quagmire that is the soggy, muddy state of the training camp set up. It is the arrival of "America's Quarterback," Bucs signal-caller Jameis Winston.
The franchise savior has resulted in the fanbase being energized like it hasn't been since Derrick Brooks and Chucky struck fear into opponent's hearts.