Bucs' Blunder Comes Full Circle
August 3rd, 2015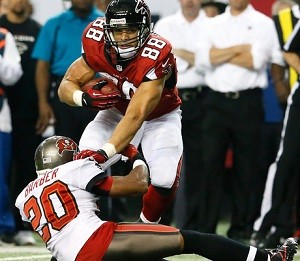 During the very early weeks of the Mark Dominik-Raheem Morris regime in 2009, Joe was pounding the drum loudly for the Bucs to trade for legendary tight end Tony Gonzalez.
Tampa Bay choked and the arch rival Falcons got Gonzalez for a second-round pick.
The Bucs traded their '09 second-round pick for Kellen Winslow, Jr. Prior to Winslow's public masturbation issues, he had a couple of excellent seasons for the Bucs, before turning whiny and selfish in 2011.
Gonzalez had five strong seasons in Atlanta, where he never missed a game and was a cornerstone of a powerful offense.
New Bucs offensive coordinator Dirk Koetter called plays for Gonzalez in Atlanta for a couple of years, and got familiar with using a monstrous tight end effectively. Now Koetter has 22-year-old Bucs tight end Austin Seferian-Jenkins, a former basketball player like Gonzalez. The two are nearly identical size, about 6-5, 255 pounds.
Koetter dared to compare after practice yesterday at One Buc Palace.
"I tell you, if Austin is healthy, he reminds me…I coached Tony Gonzalez at the end of his career. Our tight ends coach, Jon Embree, had Tony in Kansas City. Austin's talented," Koetter said. "He can't have little nicks – now back surgery, that's not a nick, but soft-tissue injuries. If Austin can stay healthy we have very high expectations, and so does he."
Seferian-Jenkins humbly shrugged off the comparison yesterday but was grateful to be mentioned in the same breath.
Joe's intrigued by the order of the universe. If not for the Bucs missing on Gonzalez, they wouldn't have an offensive coordinator well versed in how to maximize Seferian-Jenkins.
Fate — and stink — of epic proportions also dropped America's Quarterback, Jameis Winston, in the Bucs' lap.
Perhaps the stars are aligning just right, for a change.