Brooks Gave Jameis Winston "Homework"
August 3rd, 2015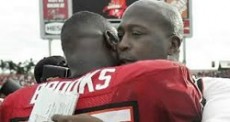 Lovie Smith insists Jameis Winston, America's Quarterback, does not need a mentor.
But that doesn't mean Jameis is without one.
Mr. Derrick Brooks is mentoring Jameis. That's been rumored and discussed many different ways. But yesterday, speaking at a Hooters fantasy football event at the Stadium on Dale Mabry Highway, Brooks confirmed — again — that he's counseling Jameis and advised him to study a quarterback legend.
Brooks told Chris Fischer, of WTSP-TV, Ch. 10 that Jameis was given "homework" to go back and review how Peyton Manning carried himself off the field and with media during his first couple of seasons.
It's interesting how Brooks' focus, in this example, was about something unrelated to Xs and Os. Brooks often talks references a need to develop the entirety of a man and leader.
These tales are all good signs. Not every rookie is open to advice and mentoring from various sources. Jameis seems to crave it.