Report: Lovie To Take Over Playcalling Duties
August 20th, 2015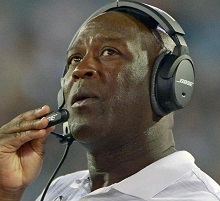 If this latest report is accurate, then Joe believes it says a heck of a lot about what Lovie Smith thinks of the Bucs' 2014 defense.
Tampa Bay Times beat writer Rick Stroud is claiming Lovie will take control of playcalling duties for the Tampa Bay defense ASAP. Stroud says Lovie was relaying calls for the defense during today's practice via linebackers coach Hardy Nickerson.
This is stunning, considering how much defensive coordinator Leslie Frazier talked about the revival of the defense during the second half of last season. Frazier and Bucs officials have talked about how the team was top-10 in multiple defensive stats during that period. Heck, Lovie even pronounced, "True football fans can see we're on the verge" last December.
Perhaps this coaching change is part of the "verge," Lovie referenced.
Joe also wonders if this move could be related to 21-year-old rookie Kwon Alexander taking over playcalling on the field. Lovie might want to be the guy in his young ear.
One could also speculate Lovie is feeling pressure to produce in 2015, or that he feels so comfortable with new offensive coordinator Dirk Koetter, that he feels liberated to run the defense. It could also be that Lovie simply thinks Frazier is over his head.
Regardless, Lovie sure has put himself into a fire.