"'Jameis, You Did This Again.'"
August 20th, 2015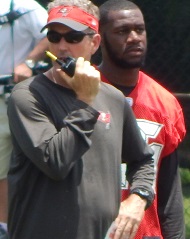 Offensive coordinator Dirk Koetter has pet peeves. You can see it on his face at times. The guy is not stoic in the Lovie Smith mode.
America's Quarterback, Jameis Winston, dove into one thing the gets under Koetter's skin during an interview on a SiriusXM NFL Radio this afternoon.
Booger McFarland and Zig Fracassi were in Tampa for an NFL Radio training camp stop and talked to Winston. Booger asked Winston about the scrutiny in Tampa and how he and Koetter handle mistakes on the field.
"You just don't make the same mistake over and over again," Jameis said. "Coach Koetter, he expects us to study the game and go out there apply it to the field. But if we're makin' the same mistakes over and over again, that's when he sit me down and say, 'Jameis, you did this again.' So he explains to me like what I need to do the next go around. But we really don't make the same mistakes over and over again. You know, every practice is a different situation. So it's different mistakes. … I mean it can be anything, but as long as you're not making the same mistakes over and over again. You're good."
What's key here is that Jameis knows he doesn't have to play scared, as long as he's not playing stupid. And stupid is repeating the same mistakes over and over.
Joe likes how the Jameis-Koetter relationship is evolving. Jameis is hard on himself, but Koetter is going to be harder when the situation demands it.
To hear more from Jameis, click the orange button below. Audio courtesy of SiriusXM NFL Radio.