Lovie Won't Touch Jameis Winston's Emotions
August 4th, 2015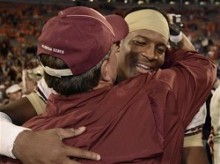 If America's Quarterback, Jameis Winston, wants to have a visible freakout because he threw an interception — like he did too often in yesterday's practice — then Lovie Smith is just fine with that.
Lovie won't look to harness his new mustang at QB or suck the soul out of any player.
Yesterday, the head coach was asked about limiting Jameis when it comes to outbursts of emotion.
"I don't stop any of the passion that anyone has," Lovie said with a serious but somewhat sour look on his face.

"If any player, Jameis, anyone else, if they make a mistake, we're going to coach them up and try to get them to avoid that next time and just realize that that's going to be the case. If our quarterbacks aren't throwing any interceptions around here, that's not a good thing for the Tampa Bay Buccaneers, sometimes. That's saying our defense is pretty bad – they should be intercepting some of them. We'll work with Jameis. Yesterday was a little bit better than today for him. He'll come back tomorrow."
Lovie is a "players' coach" for a reason. He lets the guys be themselves, as long as there's no cursing. Although, a coach (unknown identity) screamed at 100 percent volume at the offense during practice yesterday: "Stop f***'n walking!" And Joe suspects Lovie didn't quash that passion after the fact.
There would have been nothing more ludicrous than to draft a guy like Jameis and then try to change the core competitor that burns in that young man. Thankfully, Lovie will let Jameis be James.
Joe just hopes Lovie will let offensive coordinator Dirk Koetter be himself, too, and stay out of his way.