Louis Murphy Returns
August 11th, 2015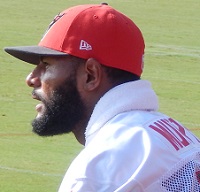 Legions of Gators fans are smiling now, as are those terrified by the Bucs' flimsy depth at receiver.
Joe is no big fan of wide receiver Louis Murphy, but it's great to have him back healthy. Today, the Bucs announced Murphy has been reactivated following an ankle injury in the offseason that Lovie Smith labeled "freak." Murphy passed a team physical, per the Bucs. He is expected on the field in some capacity this afternoon.
Murphy is a great guy to have on your roster as a No. 5 receiver, maybe a No. 4, as a veteran who also can play special teams.
Joe's just leery of Murphy as a No. 3 option. He caught 31 balls last year for 380 yards, including two touchdowns and a 118-yard game in Chicago, plus a big catch in a 99-yard effort against the Steelers. That was his first game as a Buccaneer, following being cut after training camp last year.