Jason Licht: Jameis Winston Habits Reminiscent Of Tom Brady
August 11th, 2015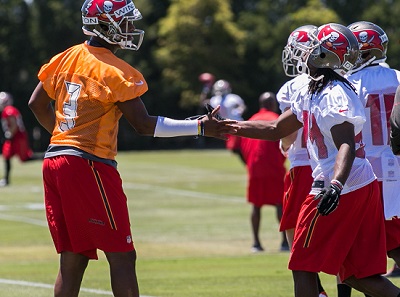 America's Quarterback, Jameis Winston, is making quite an impression. Good luck finding a Buccaneers player who doesn't offer an ear-to-ear grin when Jameis' name is evoked.
Tampa Bay general manager Jason Licht offered Joe a deeper understanding of why that's the case.
Joe asked Licht about the development of Jameis and what's impressed him. Keep in mind Licht spent months researching Jameis and getting to know exactly what to expect, so it's noteworthy when Licht says something stands out.
"It's the things that you guys and the people, the fans don't see inside the walls here. Just the relationships that [Jameis] is developing with the players, it's happening so fast here and so organically," Licht told Joe, while Joe hosted on the WDAE-AM 620 airwaves on Saturday at One Buc Palace.

"He's in the cafeteria sitting with the veterans and just developing a rapport with not just the receivers but the linemen. He seems to be gravitating toward the linemen, which is always a good thing for a quarterback.

"I remember when Tom Brady was a rookie and I was with the Patriots, and we would go to the lunchroom and we'd look over in the corner. And there's Brady sitting around all the starting lineman and telling stories and being animated, and they're just captivated by them. And that was kind of the moment that we knew there's something to this guy, besides the fact that he could throw the ball.

"Jameis has that. I'm not saying he is Tom Brady, but he's got a natural charisma but also a football character and just common sense when it comes to being a leader."
Again, Joe realizes bonding doesn't win games, but leadership is vital from the quarterback position. It has been in every NFL era. Players need to trust and believe deeply.
In the event the Bucs struggle and open the 2015 season 0-2 again, having a guy like Jameis leading from the QB position should prevent a total and complete train-wreck, white-flag effort in Week 3, as was witnessed last year.
Thinking optimistically, what the Bucs are building with Jameis is the foundation of a great team.