Ball Slappin' Lovie Smith
August 11th, 2015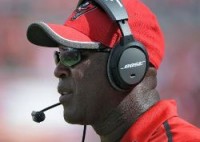 Here's a great look at what Lovie Smith likes to do behind the scenes in training camp.
The Buccaneers' mic'd up the head coach at a recent practice and shared a compilation of Lovie takes and video. Click here.
What Joe found interesting is how in this entire video, Lovie is shown totally focused on defense, other than a one-liner to Mike Evans.
Also, Lovie has a habit of sneaking up behind players who are holding footballs off the field of play. Lovie likes to slap the ball to knock it free. The message is if you're going to hold a football, then protect it at all times. Forge a good habit. Lovie likes that rookie Kwon Alexander is already on to him. Leonard Johnson is shown falling victim to the head coach's ball-slappin' ways.