Electing "Captain" Jameis
June 30th, 2015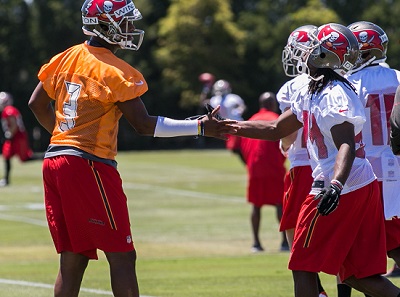 In the world of Lovie Smith, and on most NFL teams, players elect team captains: two on offense, two on defense and one for special teams.
Joe hopes Bucs players are smart enough to make Jameis Winston, America's Quarterback, one of those players. Anything else is silliness.
Captain Vincent Jackson has captained the Bucs to horrible depths the past two seasons. V-Jax seems like a model teammate, but Joe's had enough of the current leadership team. "You're Fired!" as Donald Trump would say.
Earlier this month, Lovie Smith told media he believes Logan Mankins will be a captain. It was a very bold statement endorsing a guy who brought little to the table for the team's worst unit last year. And what's the guarantee Mankins will schedule the barbecues he deems so critical?
In the Buccaneers.com video below, official team scribe Scott Smith says he doesn't believe Jameis will be voted captain. Man, Joe hopes Smith is wrong.
Joe thinks the roster will realize Jameis is their leader and make it official. And Mike Evans is a fine choice for the other offensive captain spot.