"It Helps Me Actually View What Greatness Is"
August 4th, 2015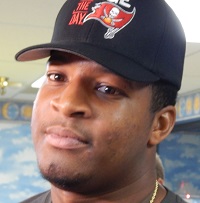 As Joe wrote yesterday, Jameis Winston was given a homework assignment by Derrick Brooks.
So Joe asked Jameis about that today to see if he completed his assignment.
Brooks wanted Jameis to study Peyton Manning, especially Manning's early years. Jameis did his homework.
"One thing about Peyton Manning is he's very effective and very consistent. You know, so, anytime I'm able to watch a prolific quarterback like he is, it means a lot to me. It helps me actually view what greatness is," Jameis said.
Jameis didn't offer many specifics, other than to say he's watching tendencies, preparation, and everything.
None of this means much, but Joe is pleased that Jamies is doing as he's told and listening to his mentor, even if Lovie Smith insists Jameis doesn't need one.