Lovie Smith: "Jameis Doesn't Need A Mentor"
July 31st, 2015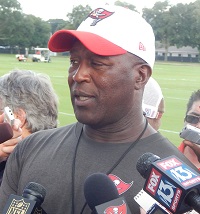 Lovie Smith fired off intriguing words this afternoon at One Buc Palace.
Oh sure, the message was simple, "Jameis Winston doesn't need a mentor," Lovie said.
But the words explained plenty. First, they illustrate why Lovie didn't keep his trusted, inspirational (to Lovie) friend Josh McCown on the roster. McCown seems like an ideal team-first mentor type and backup quarterback. But Lovie is so confident in America's Quarterback, 21-year-old Jameis, that he had no use for any veteran QB.
It's also noteworthy because Lovie has raved so much about having Logan Mankins around to rub off on the rest of the offensive line. Heck, during the spring, Lovie said he expects Mankins to be named team captain, which is voted on by players. Hmmm, so Lovie sees the value in Mankins as a mentor for his two rookie offensive linemen, but Jameis needs no such mentoring.
On the defensive side of the ball, Lovie brought in leadership types like Chris Conte at safety, and others who were familiar with his style of defense. In part, those guys are here to help mentor players less familiar.
But Jameis? He is so good he doesn't need a mentor. Heck, the Bucs didn't even acquire a camp-meat backup quarterback who played for Dirk Koetter, someone who could ease the transition to Koetter's terminology.
Jameis was named the Day-1 starter this afternoon and that got Lovie a little animated in Jameis' defense.
"I would never put a guy in that position if he wasn't ready for that," Lovie said. "A lot has been said about Jameis and mentors and different things. Jameis doesn't need a mentor, alright. Jameis is ready to take the reins and go with it. The mental part, the physical part and just being a quarterback in the NFL and being able to take the criticism that goes with this; I think he is ready for that."
Man, if Lovie didn't move all in on Jameis when he drafted him, he certainly went there today — in mind, body and spirit.
This might just be Lovie's smartest move of the 2015 offseason. Joe just hopes Lovie lets Koetter "take the reins and go with it," like Lovie said Jameis can do.