"I Think The Guys Believe It Around Here"
August 19th, 2015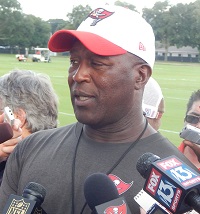 Lovie Smith says he has a "history" and a reputation, and Bucs players are seeing it and he thinks they believe in it.
Joe is confident Lovie Smith reached a point last year when he wasn't interested in playing the best available players. Simple as that, as Lovie would say. And Joe's not talking about the season-ending, Chase-for-Jameis game against the Saints.
To summarize greatly, Josh McCown, Charles Sims and Michael "Ghost" Johnson often were not the best available at their positions. No chance.
But it's a new day in the world of Lovie –or an old day, as Lovie claims.
Asked about the insertion of 21-year-old rookie fourth-round pick Kwon Alexander into the starting middle linebacker job, Lovie said his roster is seeing what the head coach is all about.
"We would all prefer a veteran, but I prefer the best player and a lot of times he's young," Lovie said yesterday. "It seems like more and more are younger. I have no problems, my history has been that. I have no problems playing young players. It's just left to us as coaches to stimulate that process of catching them up. That's what we are doing with some of our young players – quite a few of them.

"For young guys coming in, we let them know early on this is what our history has said. If you are the best guy, it doesn't matter if you are a rookie or whatever. We'll play you right away, but you have to do that a little bit for people to believe it. I think the guys believe it around here."
Joe already heaped a load of praise on Lovie for what appears to be a change in mindset about players earning jobs — even if Lovie is in denial that a change has occurred.
Joe has no doubt that there is a new belief system in the Bucs' locker room, a new urgency, a new hunger to win immediately, a renewed desire to put the best players on the football field. Those are all great things.