Alone In Study
August 19th, 2015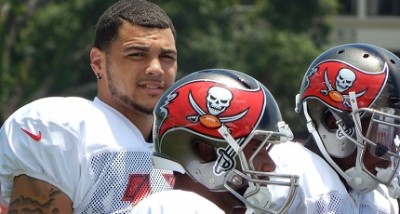 A stroll inside the walls of One Buc Palace showed Gerald McCoy just about all he needed to see from one of his newer teammates.
Mike Evans, still 21 years old, has accomplished quite a bit as a young football player. But McCoy says Evans is just getting started.
McCoy shared that he believes, with a mentoring assist from "99," aka Warren Sapp, that the greatest players are constant students of the game. They study their film, opponents' film, the tape of NFL peers and, as Sapp told McCoy, they "chase the ghost of the game."
McCoy sees that desire in Evans, so he referenced yesterday. And it wasn't just the following words describing an aspect of Evans' work ethic, it was the way McCoy said them with feeling, admiration and a pay-close-attention attitude.
"That's where it all starts, a confidence in yourself. His God-given ability is going to take him a long way, but one thing I will say about him is he's trying to learn the game," McCoy said. "I watch a lot a film, so I'm up here at random times during the day or when we're on break, I'm in the film room. I was walking through the receivers room one day and Mike was in there by himself, watching Dez Bryant. One thing I told him is, what I did is I looked around the best players in history and the best players in the NFL (currently) and tried to take a little bit from each person. I think if he does that, he'll easily take over this league."
How bout that show of dedication by Evans. It's just a great sign from such a young player.
Josh McCown, when asked about Evans' future, used to talk a lot about how Evans' career likely would be defined a great deal by how he approached his craft between his rookie year and Year 2. McCown explained he's been around a lot of great young receivers in his travels, and that's the common thread.
Hopefully, McCown predicts receiver success better than he throws a football. Joe's got a good feeling.