"He Cracked The Code"
August 19th, 2015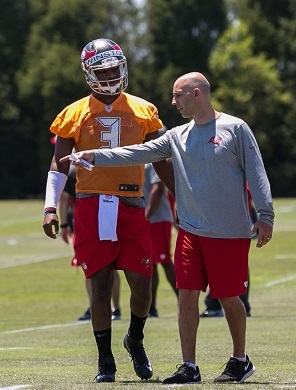 There's been much written about the football genius and overall genius of Jameis Winston, America's Quarterback.
Now there's even more insight — at least new to Joe — about how Winston was breaking down the game during his kindergarten years.
John Clayton, "The Professor" of BSPN, had private time with Jameis recently and dove into Jameis' intense football upbringing. Here's a snippet:
"Well, ever since I was six, I had a little notebook with coverages and notes on the mental aspect of a game, what it meant to be a leader and what type of attitude you had to have," Winston told me earlier this week. "When I was young, I always wanted to be great at football."

Even at six, he understood the troubles of being a student of the game through the television. He didn't have DVR. NFL GamePass wasn't around. He had no access of coaches' All-22 view of the entire field. At age six, his mind was a quarterback trapped in the pocket with a limited view of the field.

"When I watched games, I watched the coverages," Winston said. "I watched the decision the quarterback makes based on coverage. But when I watched television, it was tough because I couldn't see the safeties sometimes."
This is all very interesting, and the linked article above has quotes on Jameis' acumen from offensive coordinator Dirk Koetter, and Clayton explains how Jameis "cracked the code" of the Bucs.
However, Joe knows this is all just fun and fantasy — until it's reality on the field.  Plenty of guys in NFL history, from Andrew Luck to Todd Marinovich, were raised with the game by driven parents.
Jameis simply has to produce.