"I Got It From Jameis"
August 20th, 2015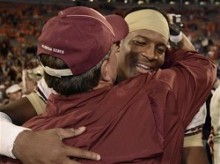 Bucs rookie receiver Kenny Bell had a nice career at Nebraska, spent five years at the school and walked out with a college degree and academic awards.
His dad played four seasons for the Denver Broncos, so this rookie knew how to work, right?
Well, not quite.
Bell explained yesterday that he arrived in Tampa spoiled by playing for the same offensive coordinator for five years and didn't have the best work habits because he knew the playbook so well after a few seasons. So guess who gave him the drive and example he needed to make it in the NFL? America's Quarterback, Jameis Winston.
"I didn't have the work ethic at the time to study. I mean, I got it from Jameis," Bell told the Ronnie and TKras show on WDAE-AM 620 yesterday. The way Jameis approaches every single day, from when he gets up in the morning to when he goes to bed, is phenomenal. He studies the playbook harder than anybody I've seen."
Keep in mind Bell spends much of his time at One Buc Palace around Vincent Jackson, who is notorious for his study habits and dedication.
Enjoy the full Bell audio below via the 620wdae.com player.