Dominik Ices Bucs From Top-53 List
August 20th, 2015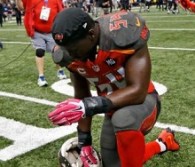 So former Bucs rockstar general manager Mark Dominik was granted a $142.3 million salary cap from ESPN.com and was tasked to build and detail the best NFL roster money could buy.
No Buccaneers made the team.
You can read the whole piece here behind a BSPN paywall.
Joe's not sure if this is poetic or profound in some way, or just a telling sign of the state of the Bucs.
Interestingly, Dominik passed on Darrelle Revis. He nearly chose a Buccaneer, he explained, but Lavonte David's 2015 salary cap hit led Dominik to save a little cash and go with the Seahawks' Bobby Wagner at weakside linebacker. Connor Barth was his kicker, inexpensive and "clutch," Dominik said.
The only other teams iced from Dominik's list were the Patriots, Saints, Titans and 49ers.