Expectations Raised After Carolina Loss?
August 19th, 2015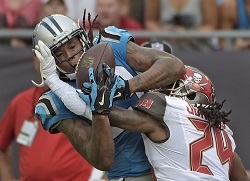 Sad news hit the NFL family today when it was learned Carolina Panthers' No. 1 receiver Kelvin Benjamin was lost for the season with an ACL tear.
No, Joe's not cheering because the NFC South champs were dealt a crushing blow like this. Well …
Of course not. Joe hates to see any player deal with a major injury. But the division did get a lot more interesting.
Joe realizes the Bucs couldn't stop Panthers tight end Greg Olsen and backup quarterback Derek Anderson last year, but one would hope the Bucs' defense is improved significantly. If not, then Lovie Smith is likely looking for work.
Losing stud Benjamin from a rather thin receiving corps is not something Carolina can go out and fix. No. 1 receivers are not sitting home on the couch, and they don't get cut. Heck, there aren't even No. 2 wideouts laying around (other than mattress-in-the-yard Mike Williams.)
So how many wins was Benjamin worth? From a Carolina team that seemed poised to win, what, nine games?
Joe thinks losing Benjamin will cost Carolina two wins. If those Ws fall to a revived turnover-happy Bucs defense, the perhaps things could get very interesting in Tampa. In Week 4, the Bucs take on the Panthers in Tampa. Man, Joe would be bouncing-off-the-walls excited if the Bucs opened the season 2-2.