Dotson Details A Changed Mankins
August 3rd, 2015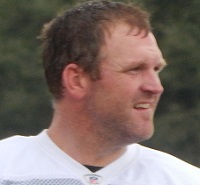 Let's add this up. Former superstar left guard Logan Mankins reported to the Bucs revitalized in April with "six-pack abs" (perhaps he gave up grilled meat?) and was called the "father of the locker room" by Tampa Bay management last week.
Then, Mankins talked yesterday about his revived motivation.
Joe soaked all that in and felt compelled to ask right tackle Demar Dotson, who has been around O-line leaders like Jeff Faine and Davin Joseph, what is really different about Mankins this year.
"He's taken more of a vocal role on this football team," Dotson said. "That's one thing he didn't do a whole lot, you know, last year. He just more led by example; he didn't say too much. I don't know why, you know, a guy with that much knowledge and that much playing experience, why he didn't say too much, but he came back with a mindset that he's going to be more vocal. That's what he's doing.

"He's holding guys accountable. So, you know, you can't look at a guy like that and say, 'He don't know what he's talking about [or] know what he's doing.' When he's speaking you've got to acknowledge the respect."
It's pretty interesting that Dotson doesn't get why Mankins was so quiet last season. One could speculate all day long and come up with all kinds of conspiracy theories.
But that's old news.
Bucs fans should be confident that Mankins is a changed man. However, Mankins remains a 33-year-old guard with a history of knee issues. Beating Father Time is much harder than tackling an attitude adjustment.