"Just Trying To Help Him"
January 27th, 2015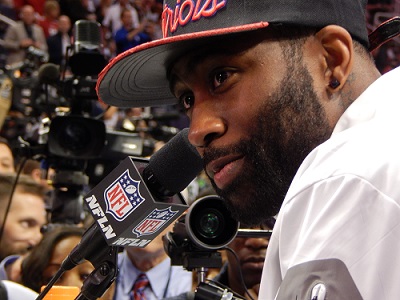 Darrelle Revis talked to Joe today about one of his old Tampa Bay teammates.
Yes, Joe's been frolicking around Phoenix talking to everyone about all things Bucs. It's just part of how Joe saves his readers from the boredom of traditional Buccaneers coverage.
Joe asked Revis about his pal Go Go Gadget Arms; that would be Bucs cornerback Johnthan Banks.
It turns out Revis is a steady influence on the 2013 second-round pick.
Joe: Johnthan Banks had four picks this year. Did you keep track of him a little bit? And what can you say about him.?
Darrelle Revis: Yeah, man. Johnthan Banks is a great friend of mine. I always keep in contact with him and what he's trying to do, and just trying to help him. If he has any questions or anything he wants to know as a corner in this league. He had a great year this year. He actually did, man. He stepped up. He even stepped up as a rookie last year when I was in Tampa. The sky's the limit for him.
So there you have it. Banks has a Hall of Fame tutor and friend just a phone call away.
That's pretty cool. Imagine if Revis was with him on the practice field.