"Who You Gonna Pay, A Guard?"
July 1st, 2015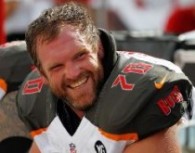 Hall of Fame general manager Bill Polian had a stern lesson for a fan last night.
The fan was a caller to SiriusXM NFL Radio, where Polian was hosting with Alex Marvez. The know-it-all fan was talking about how teams can't really afford two premier receivers, and the guy was flapping about Julio Jones and Roddy White, among other examples.
Polian let the guy finish and then quashed his premise.
The mighty personnel gurus at the Packers have no problem paying $20 million for two receivers and a fortune to a QB, Polian noted, among other NFL examples.
"Who you gonna pay, a guard?" Polian quipped. He went to say you pay the guys who make the plays and that's always the priority. They're more valuable to winning games than some sort of on-paper balance on the roster.
Of course, the guard comment got Joe thinking about barbecue-yearning Logan Mankins, who is due $7 million this season.
The Bucs don't have enough established playmakers on both sides of the ball to pay. It's a lousy predicament, but that's why Joe has no problem with the team investing all that money into hoping an old guard coming off a rough season will have an impact.
It's better than paying $6 million to a never-was left tackle, like they did last season.