Derrick Brooks: Sapp Will Be "A Better Person"
July 10th, 2015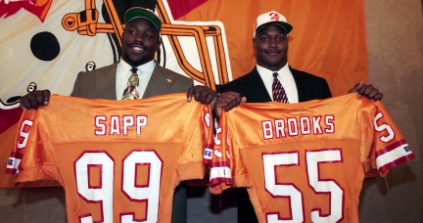 After a $600, February threesome with hookers got Warren Sapp arrested, followed by charges of domestic violence, and looming jail time for a probation violation, the Bucs icon appeared to hit rock bottom.
But one of Sapp's closest friends, Bucs legend Derrick Brooks, says he has been a regular voice in Sapp's life since his Super Bowl week arrest and the future is bright.
"The communication has been consistent. It's been productive," Brooks said on WDAE-AM 620 today.
Brooks said Sapp will be "a better person" when he gets through his latest challenges, and Brooks added Sapp has a healthy attitude.
For some, Brooks said, "it's got to get really dark."