Official Bucs Website Celebrates Warren Sapp
July 16th, 2015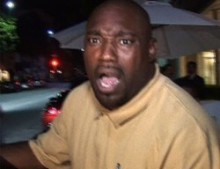 In February, NFL Network fired Warren Sapp after Arizona cops busted him for an assault charge related to a $600 threesome with hookers.
This summer, Sapp got pinched on ugly-sounding domestic violence charges.
The NFL shuns these activities, especially in the wake of the Ray Rice travesty. So it was somewhat shocking to Joe to see Sapp get love on the Buccaneers' official website yesterday.
A prominent photo gallery link was on the home page titled, "PHOTOS: Best of Warren Sapp." It was still there as of early this morning.
Joe has no problem with it.
Heck, Joe covered the Bucs in Buffalo last year and saw that O.J. Simpson remains in the Bills' Wall of Fame, proudly displayed before tens of thousands in Ralph Wilson Stadium. Of course, Sapp is no O.J., not even close.
Sapp's accomplishments in pewter and red (and orange for two seasons) should not be — and cannot be — ignored.
It'll be interesting, though, to see if the Bucs organization remains welcoming to Sapp coming to One Buc Palace to mingle with players and staff during training camp and the offseason. Sapp has done just that for several years.