Sapp Slapped With Domestic Battery Charges
June 25th, 2015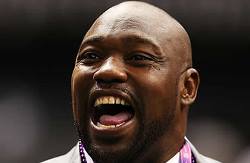 Bucs icon Warren Sapp's legal fees keep soaring while his chances of making big money in media again are plummeting.
Per TMZ.com, Sapp was just hit with all kinds of "battery constituting domestic violence" charges in Las Vegas stemming from an April incident. He's due in court, per TMZ, on July 23.
There are loads of accusations by Sapp's girlfriend, including grabbing, pulling and margarita throwing, which appear to be backed up by resort surveillance, per the report. Other accusations, including biting, face-stomping and more, are alleged to have happened when they were alone after leaving the resort.
There are plenty of missing details — for now.
What is clear is that Sapp is extinguishing his media career. And for those who forgot, Sapp needs the money after going bankrupt. Sapp was fired by NFL Network after a 2015 Super Bowl incident revolving around $600, a threesome with hookers, and accusations of violence against him.
How long before Sapp ends up with his own reality show, assuming he's not serving time?